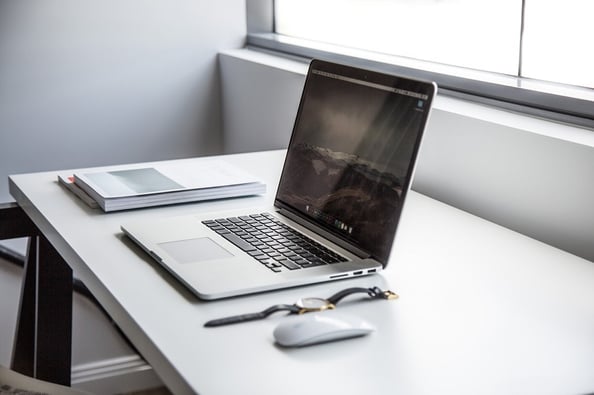 The Government's furlough scheme, which has recently been extended until October 2020, has supported many employees who have been unable to work during the Covid-19 crisis.
Unlike those workers who have continued to carry out their employment at home, furloughed staff have not needed to use business IT assets, such as laptops, desktop computers, and mobile devices, many of which now lie unused in the office.

As more staff members return to work, you may wish to reassign IT equipment from furloughed colleagues so that business operations can be delivered effectively. This is perfectly acceptable. However, it is essential to consider the data security implications of equipment transferred between different colleagues, especially when working remotely.
Ensuring Laptops Are Covid-Free
Laptops are notorious for accumulating all sorts of debris, from skin cells and oils to dust and bacteria, so ensuring that a device is genuinely clean before being transferred between staff members is a simple matter of good hygiene. While Covid-19 isn't thought to survive on hard surfaces for more than 72 hours, the small amount of time required to give a laptop a restorative clean is well-worth it to ensure peace of mind.

A microfibre cloth will gently remove debris (remember to clean in-between the keys), but disinfecting the screen, case and keyboard poses more of a challenge, as some solutions may cause damage to the laptop. The bottom line? Check the manufacturer's recommendations, as most brands offer specific advice about which cleaners can be safely used on their equipment, without causing lasting damage.
Cleansing Isn't Just About The Outside
Each device you transfer contains a wealth of sensitive information on customers, suppliers, competitors, the user, and their family, which could be compromised if not handled correctly. Even if you have the utmost trust in your employees, the increasing popularity of homeworking means that IT equipment is more exposed to people outside your business than ever.

Confidential data can be stored in a variety of formats, including website cookies, autofilled passwords, emails, client and supplier records, and financial information. In the wrong hands, this data could expose your business to fraudulent activity, or create tension between colleagues, damaging their work ethic and commitment to your company's mission.

Professional data sanitisation will ensure that all data is permanently erased from the hard drive of the laptop, preventing it from being recovered, and eliminating the possibility of sensitive information falling into the wrong hands. Business-critical data, personal records, and applications can be backed up remotely if required, ready for transfer to another asset once the furloughed colleague returns to work.
Absolute ITAD For Specialist Data Sanitisation
You can attempt to erase data from your laptops before reassigning them. Unfortunately, without expert service, it can usually be easily recovered, often with free downloadable software. Unless processed professionally, a deleted file is rarely gone forever.

At Absolute ITAD, we make sure that sensitive data is obliterated permanently, meeting your business's obligations under the Data Protection Act and GDPR. Our data cleaning service ensures that the storage device remains intact and fully usable, while all information is removed using Blancco, the quickest and most effective data erasure software available, so you can reassign your IT equipment with confidence.
For more information on our data sanitisation service, please download our free guide or get in touch to discuss your requirements.
Call or email our team today to learn more.
Image source: Unsplash